About WAVE
Workforce in Addictions · Valorisation in Europe
The WAVE information sheet gives a quick introduction to the project and how to get involved.  DOWNLOAD IT HERE 
Background
The addictions workforce in Europe is complex and multidisciplinary; it includes medical specialists, nurses, allied health professionals, psychologists, community and peer workers, among others. The workforce must be sustainable while constantly evolving with changes in society and client needs, as well as advances in clinical practice, prevention and harm reduction. As drug policy and regulatory approaches vary across Europe, there are also variations both across and within European countries in the organisation and structure of health and social care services and systems as well as in the core competencies, profile and skills-mix of the addictions workforce and in practice standards and standards for education and training.
The WAVE Project
WAVE (Workforce Addiction · Valorisation in Europe) is a European project, co-funded by DG JUST at the European Commission, running from June 2022 until after the Lisbon Addictions Conference in 2024.
WAVE will…
1) create a global Community of Practice (CoP), with specific interest groups for addictions workforce development,
2) carry out mapping research on best practice, variety and gaps in the European addiction workforce,
3) co-produce a thematic track 'Empowering the Addiction Workforce' in Lisbon Addictions 2024, and
4) run a video competition for audio-visual pieces relating to one any of the main areas/ thematic tracks of the conference (a selection of videos competing for the prizes will be shown at the conference in the WAVE Cinema).
In addition, the project will award up to 120 bursaries to support participants who would otherwise not be able to attend the LxAddictions24 Conference.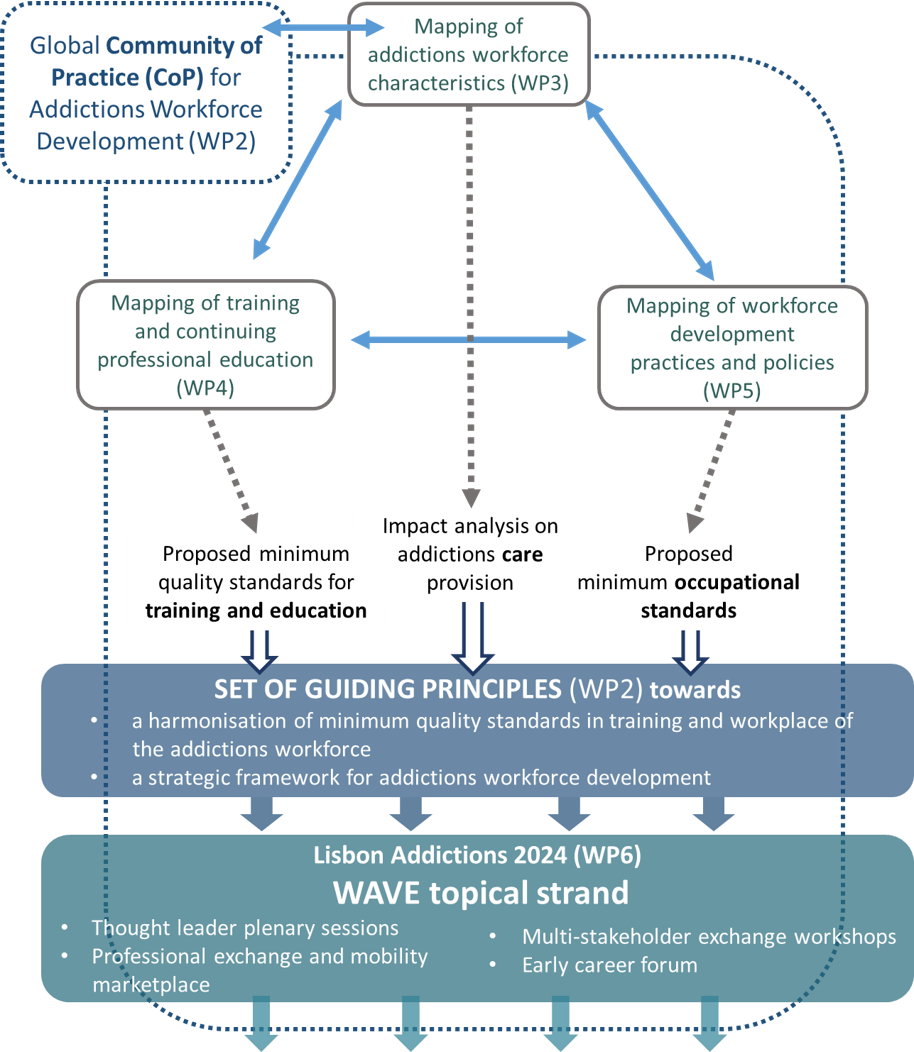 WAVE Objectives
1. Facilitate European and international knowledge exchange and collaboration – A Community of Practice (CoP) or professional network for Addictions Workforce Development – CLICK HERE TO GET INVOLVED IN WAVE CoP WORKING GROUPS
2. Identifying knowledge gaps and supporting workforce planning through research and development of guidance on quality standards (education and training, and occupational):
European Addictions Workforce Snapshot;
Mapping and guidance on quality standards for European addictions workforce education and training;
A consensus-based proposal for a set of minimum core occupational standards in addiction care
3. Support the Lisbon Addictions 2024 Conference: